Earl Grey Tea Latte with Honey Pearl
Earl Grey Tea Latte has an invigorating citrus aroma and pairs well with fresh milk, either hot or cold.
The pearls are cooked fresh each day in store. The time-consuming process involves over 90 minutes of cooking, and alternating the temperature from hot to cold to ensure each pearl is perfectly transluscent but retains its texture.
Valhona Cocoa Milk
The indulgent Milkshop Cocoa Milk calls for the use of of premium Valrhona cocoa from France. Every sip is sweet, rich and addictive. Valrhona is a premium chocolate brand established in 1922 by French pastry chef Albéric Guironnet from the Rhône valley—focusing on high-grade luxury chocolate and specializing in the cocoa production process.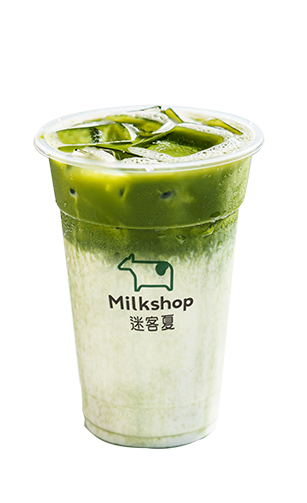 Japanese Matcha Milk
In order to find the highest quality matcha powder, Milkshop took a trip to Izumo to find matcha from the century-old Japanese brand Izumo Tousuien (桃翠園). The chosen matcha has a unique and sweet flavor profile which is utterly delicious when used across our Matcha Milk.
Fresh Taro Milk
Fresh Taro Milk is one of our top sellers—for a good reason. We use taro from Dajia (大甲), where the best Taro is found in Taiwan. The taro is steamed and hand-mashing instore, and with each sip you will taste the natural flavor of taro.
Iced Orange Green Tea
Fresh orange juice is pressed, sterilized and snap-frozen to keep all the goodness intact. The Iced Orange Green Tea boasts refreshing citrus notes. We carefully select natural ingredients as a base for all Milkshop beverages.